Happy Yak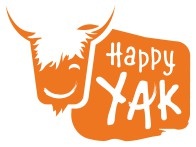 Happy Yak, although a recently launched brand, really dates back several years. It was actually in 1996 that the idea of facilitating outdoor excursions for sportspersons of all ability levels begins in the mind of Christine Chénard, President and cofounder of Happy Yak. Without realizing how far this concept would lead her many years later, it is with great enthusiasm that she accepted to develop meals that would ensure food survival for her friends on their journey to the North Pole.
Early summer 2012, Christine and Guy Dubuc's complementary profiles join forces, and in March 2013, the partners successfully launch Happy Yak, a true reflection of its creators.
Active families, urban sportspersons, travellers and adventurers now have a tasty, nutritious, and simple solution for their outdoor foods. 
With Happy Yak, outdoor dining becomes a unique opportunity to enjoy life, share good food with friends and family! Forget about long preparation time, go out and welcome the freedom to travel the world, seek the adventure, live free.